---
Tennesseans
To Arms!
---
---
Reenactors Wanted for Service in the
44th Tennessee Consolidated Infantry
---
Now recruiting campaign oriented reenactors in the Pacific Nor'west to join the Tennessee mess in Chaps.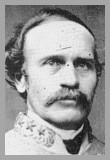 General Bushrod Rust Johnson
A campaign style unit. Live the life of a soldier on campaign, not a pretender huddled in a winterquarters tent - in July. Learn how campaign style camping can be more luxurious than the perceived comfort of tent and cot.
Live a soldier's life. Wear jeancloth, shoulder your musket, carry your gear. Survive on sow belly, hardtack, corn meal, and coffee.
Make your mark and bring history alive. For more information about enlisting, contact 1st. Lt. Mark (Silas) Tackitt; P.O. Box 46330, Seattle WA 98146 - 0330; 206/682-7566.
---
---
Last updated 12 Oct 03 at 1600 hrs.
---