---
Your regular unit not going to MudIver, but you want to?
Join the
Campaigner
Camp of Instruction
26 - 27 April '03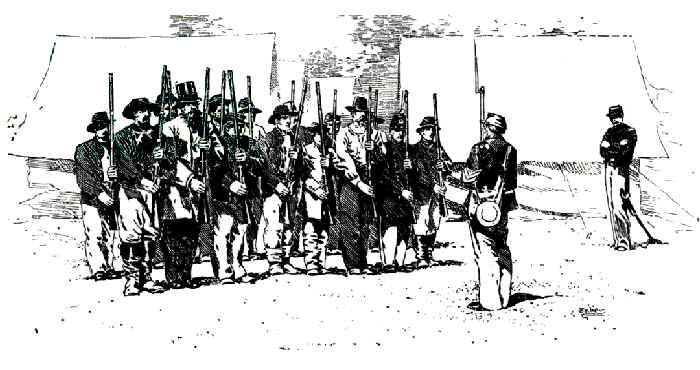 Lessons on: Drill, Period Soldiering, Cooking Period Rations, Campaign Camping, Improving your Impression, Camp Life, and Et Cetera
A more realistic experience! Friday night outpost along the "Tennessee River," three mile preservation march Saturday morning; outpost on the battlefield Saturday night. View photos from last year's event.
But I've never campaigned! That's the whole point of the Camp of Instruction. Reenactors who have never campaigned are encouraged to get a little closer to what the actual soldiers experienced. With just a little assistance from the veterans, anyone can survive a weekend on campaign.

But it might rain! Tent flys will be brought as protection from the elements. Priority shall be given to new campaigners.

But my gear is not name brand! This event is about learning and doing, not thread counting. The standard is "C&C" or better so don't be timid. The preferred attire is Army of Tennessee. What's that? See: the standards for the 44th Tennessee; Western Confederate Uniform Guidelines - from the Lazy Jacks; and/or the 140th Lookout Mountain Confederate accoutrements page and uniform page.
What will I eat? A ration issue available to those who apply early. (A nominal and fair fee will apply.) For the more independent minded, here are three food related links:

No One Loves Me Like My Tomato Can
Menu for a Three-Day Event
Virtual Palmyra Post - Rations & Recipes
But Silas is involved. Won't he try to steal me away from my regular company or pollute my mind? To the first question, not at all. This is a one weekend commitment to try something different. After the weekend is over, you are free to rejoin your regular company without any consequences or attachments. As to the second question, you be the judge.

But I'm not sure if I can campaign the entire weekend. New campaigners are encouraged to give 100 percent. If they must return to the mainstream camp for any reason, they are allowed. The hope is that the new campaigners will find that campaigning can be easier and more fulfilling than mainstream reenacting. It is hoped that the new campaigners will apply some of the campaign experiences upon return to their regular companies.
I'm considering it. What unit will we portray? The campaigners will portray the field consolidated 18th/26th Tennessee Regiments of Brown's Brigade as it extended the left of Bragg's army past Lookout Mountain. A series of outposts fifteen miles southwest of the mountain were manned by this consolidated regiment. One of the several outposts manned by the 18th/26th Tennessee was composed of thirty soldiers and situated near Wauhatchie:

HEADQUARTERS, Powell's Gap,
November 19, 1863——4 p. m.

GENERAL [JOHN C. BROWN]: I proceeded with a squad of 30 men across Lookout Valley this morning, under a heavy fog and smoke, and reached the Trenton road and Will's Valley railroad 1½ miles above the Yankee pickets. I picketed the dirt road two hours and a half or three hours. A battalion of cavalry passed in the direction of Trenton about 10 o'clock. Captured a Yankee officer's horse, servant, and rigging. If you'll allow me to take a regiment, I think we can ambush and capture a foraging party any day (at a risk, however). All quiet.

Yours to command,
W. R. BUTLER,
Lieutenant-Colonel, Commanding Outpost.

O.R., vol. 31, pt. 3, p. 718

Click here for more reports and correspondence from the Official Records during this campaign - There's much to view here.

In the days leading up to the Battle of Lookout Mountain, the 18th/26th had several minor skirmishes with the enemy before the battle. Being several miles from Lookout Mountain and being on the extreme left flank of the army, the unit was not engaged in the actual battle for the mountain. However, the unit was involved in substantial skirmishing during the battle and for a time was severed from the rest of Bragg's army as Hooker's Federals took Lookout Mountain.

Click here for a brief history of the 18th and 26th Tennessee Regiments through the Chattanooga Campaign

Why Lookout Mountain? Location, location, location. Aerial views of Chattanooga and Estacada are amazingly similar. The recreated march from the right of the line to the left is what was done by this particular unit. We are trying to recreate the thirty man outpost at Powell's Gap on Friday and Saturdays night.

Join the unit which was the largest Confederate unit at last year's MudIver event. Company commanded by Silas Tackitt with platoons commanded by Adam Carter and Mark Terry.

Map of MudIver Park - pdf map from the Oregon State Parks page.
Preregister with John Tylczak, 1005 N. Cedar, Tacoma WA 98406, 253/759-4410.
---
All participants encouraged to donate at least $5 towards battlefield preservation at Lookout Mountain Battlefield as part of the March for Preservation.
---
---
Last updated 12 March 2003 at 1800 hrs.