Stidmon's Gap
of
Lookout Mountain
---
Click on the jpg to a link for a searchable topographical map of the area portrayed in the jpg. (It's a large jpg and slow to load.)
The designated trail for the march has been highlighed in red near the red arrow. The trail proceeds in a northeasterly direction to the Chattanooga National Battlefield Park. When following the trail on the subsequent topo maps, look generally to the base of Lookout Mountain on the right and for Lookout Creek on the left of the trail.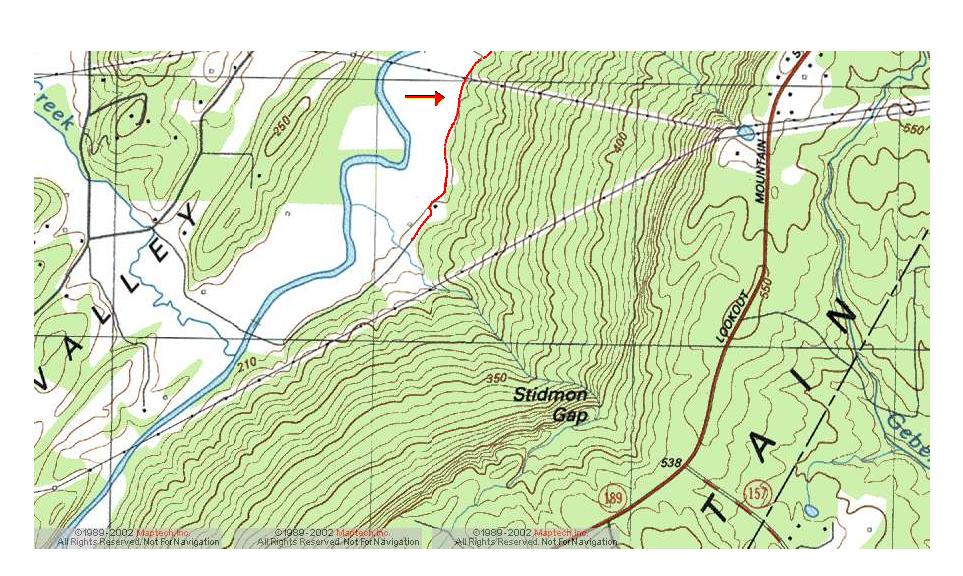 To view an aerial photo of this same area, perform these two steps. (Read instructions before taking action.) First, click here. The Teraserver page will load. Go to the compass rose at the left of the screen. Immediately above the rose is a drop down menu. Click on the menu - which present reads, Topo Map - and select Aerial Photo. The photo of this area will load. Unfortunately, a direct link to the photo cannot be established.
To view a close up aerial photo of Stidmon's Gap, follow the same procedures as above, but click here for the specific topo map. Once you've loaded the photo, you will see that it was taken in 1999. Notice the many trails leading up the gap. Camping prospects are very good for the evening.)
---
---
Last updated 12 January 2003 at 1100 hrs.