---
Reports from the Official Records
about the 44th Tennessee Consolidated Infantry
for 1864 - 65
---
O.R.-- SERIES I--VOLUME XXXVI/2 [S# 68]
MAY 4-JUNE 2, 1864.--Operations on the south side of the James River, Va.
No. 96.--Report of Col. John S. Fulton, Forty-fourth Tennessee Infantry, commanding Johnson's Brigade, of operations May 7.
[ar68_245 con't]
HEADQUARTERS JOHNSON'S BRIGADE,
Fort Clifton, May 8, 1864.
CAPTAIN: I have the honor to submit the following report of the part taken by this brigade in the engagement at Port Walthall Junction on the 7th instant:
The morning of the 7th found us in line of battle on the Richmond and Petersburg Railroad, and to the right of the Junction. About 10 o'clock we received orders to move to the front. We had not gone far, however, before we were ordered to resume our former position. This being done, in about fifteen minutes we were ordered to move by the flank and on the left of the enemy's line of battle, under cover ofof thick pine woods. Leaving one regiment in reserve, we reached the point designated and formed line of battle perpendicular to that of the enemy, supporting a section of artillery in our front. Just at this time our battery opened on the enemy. The enemy's battery replied and shelled our position fiercely, though with very little effect, wounding 3 men. Failing to induce the enemy to advance, as <ar68_246> was anticipated, and finding that he was moving to our right, we retired to our first position on the line of the railroad, now become the right of our line of battle. Here we remained during the rest of the day. The enemy did not advance on our position, consequently, with the exception of some skirmishing and cannonading, we were not otherwise molested. Our casualties are as follows: Wounded, 7 privates; missing, 1 private.
Very respectfully, your obedient servant,
JOHN S. FULTON,
Colonel.
Capt. R. E. FOOTE,
Assistant Adjutant-General.
---
O.R.-- SERIES I--VOLUME XXXVI/2 [S# 68]
MAY 4-JUNE 2, 1864.--Operations on the south side of the James River, Va.
No. 98.--Report of Capt. William N. James, commanding Twenty-fifth and Forty-fourth Tennessee Infantry, of operations May 16.
[ar68_248 con't]
HDQRS. 44TH AND 25TH TENNESSEE REGIMENTS,
May 22, 1864.
I have the honor to make a report of the part taken by the Forty-fourth and Twenty-fifth Tennessee Regiments in the engagement of May 16 instant, near Drewry's Bluff.
About 3 a.m. skirmishers were sent out from this regiment, composed of First, Fourth, and a detachment of 10 men from second company. A brisk fire was opened upon the enemy's skirmishers, who were driven back to their intrenchments. In this skirmish we sustained a loss of 5 men wounded from first company and 1 man missing from fourth company. About 4 a.m. the regiment moved with the brigade by the left flank from our second line of intrenchments along the Richmond and Petersburg dirt road, where we came under fire of the enemy's batteries, and on reaching the cabins recently used as brigade (Johnson's) headquarters we formed line of battle by the movement of" forward into line" in double-quick time, and moved against the enemy, who were now occupying our first line of breast-works, and who were delivering upon us an extremely heavy and fatal fire of both musketry and artillery.
We were about 100 yards from the breast-works, or less, when Lieut. Col. J. L. McEwen received a severe wound in the right leg, disabling him from further command. He ordered Major McCarver to hold the position at the risk of the loss of every man. Major McCarver took command and pressed forward, and we engaged the enemy. We were now near our first line of breast-works, then occupied by the enemy in position on the east side. The left of the regiment got to the breast-works first, marching a little obliquely. The enemy met the left wing of the regiment with a well-directed fire of musketry and demanded a surrender. <ar68_249> Capt. S. J. Johnson and his company (Twenty-fifth Tennessee) were here taken prisoners, with several other officers and men; in all, 1 captain, 4 lieutenants, and 45 men. Major McCarver had received a mortal wound and died on the field. Both of our field officers having been placed hors de combat, some confusion ensued.
Being the senior captain of the regiment, its command now devolved upon me. I found I had no support on my right. I rallied my regiment under heavy fire of the enemy and took shelter behind an arm of the breast-works which adjoined the main works, but it had no communication with the inner line, thus:[bitmap]

I again ordered my men to fire upon the enemy. I here saw the enemy pressing forward his skirmishers on my extreme right, at right angles with my position, in an open space from the intrenchment which they held, and which extended down on my right about 300 yards distant, and meeting the line of intrenchments in my front, thus:[bitmap]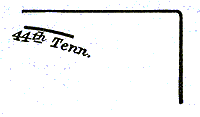 I immediately sent a detachment of 20 men, under Lieut. J. A. Hatch, to engage them. A sharp skirmish ensued, and Lieutenant Hatch was mortally wounded, and fell dead. My skirmishers drove those of the enemy back, which was a very heavy line. The enemy abandoned our first line of intrenchments under a hot fire along our whole line. The brigade was then formed in line of battle, by the brigadier commanding, on the Richmond and Petersburg dirt road, moved forward, and occupied the first line of intrenchments, from which the enemy had been driven, where we, remained until late that evening, and then moved with Clingman's brigade to support Captain Martin's battery of artillery, which engaged the enemy the following day.
For list of casualties I refer you to annexed report, and remain, your obedient servant,
W. N. JAMES,
Captain, Comdg. 44th and 25th Tennessee Regts.
Captain FOOTE,
Assistant Adjutant-General.
Command. Killed. Wounded. Prisoners. Aggregate.
Officers 2 4 5 11
Men 7 32 45 84
Total. 9 36 50 95
---
O.R.--SERIES I--VOLUME XL/3 [S# 82]
CONFEDERATE CORRESPONDENCE, ORDERS, AND RETURNS RELATING TO OPERATIONS IN SOUTHEASTERN VIRGINIA AND NORTH CAROLINA, FROM JULY 5, 1864, TO JULY 31, 1864.--#1 (page 748)
SPECIAL ORDERS No. 40.
HDQRS. DEPT. OF N. C. AND S. VA.,
July 7, 1864.
II. Johnson's old brigade is relieved from duty in Johnson's division and will proceed to the north bank of the James River and report to Lieutenant-General Ewell, to relieve the Sixtieth Alabama Regiment, Gracie's brigade, now at New Market Hill. The brigade will cross the river on the pontoon bridge below Drewry's Bluff.
* * * * * * * * * *
By command of General Beauregard:
JNO. M. OTEY,
Assistant Adjutant-General.
---
O.R.--SERIES I--VOLUME XLII/2 [S# 88]
CONFEDERATE CORRESPONDENCE, ORDERS, AND RETURNS, RELATING TO OPERATIONS IN SOUTHEASTERN VIRGINIA AND NORTH CAROLINA, FROM AUGUST 1, 1864, TO SEPTEMBER 30, 1864.--#5
HEADQUARTERS JOHNSON'S DIVISION,
Petersburg, Va., September 20, 1864.
Maj. GEORGE C. BROWN,
Asst. Adjt. Gen., Lieut. Gen. Ewell's Staff, Richmond, Va.:
MAJOR: Inclosed I forward to you a remonstrance from the officers of Johnson's old brigade against consolidation with any other command. The original application of Brigadier-General Archer for the consolidation of Johnson's brigade with his own, which called forth this remonstrance, was sent to Colonel Hughs, about two weeks ago, for his remarks, with instructions to return the paper to these head-quarters. <ar88_1264> It has not yet been returned, and it is supposed that Colonel Hughs forwarded the paper directly to your office; if it is still in your office please place the inclosed with it and forward them together. If, however, the original application has not reached your office, be kind enough to direct Colonel Hughs to forward it immediately, in order that it may accompany the inclosed remonstrance.(*)
I am, major, very respectfully, your obedient servant,
R. E. FOOTE,
Assistant Adjutant-General.
[Inclosure.]
HEADQUARTERS JOHNSON'S BRIGADE,
Signal Hill, Va., September 12, 1864.
Maj. Gen. B. R. JOHNSON,
Petersburg, Va.:
The application of Brigadier-General Archer for this brigade to be transferred to his command having been submitted to us, we, the undersigned, in behalf of the officers and men of this command, respectfully beg leave to enter our solemn protest against consolidation with or transfer to any brigade. The members of this command, to a man, are opposed to any arrangement by which they may lose their identity as a brigade. We have existed as an organization, known as Johnson's brigade, now exceeding two long years. We have fought on many battle-fields and undergone innumerable hardships together. Officers and men have vied with each other to make Johnson's brigade second to none in the armies of the Confederate States. After the battles of Shiloh and Perryville, where we lost over one-half of our original numbers, we entered Tennessee and recruited to a very large brigade before the battle of Murfreesborough. On that memorable and ensanguined field the brigade acted a conspicuous part, being in Cleburne's division and on the extreme left of the enemy. There we lost 672 officers and men. Even after this heavy loss we again recruited the command to almost the maximum number required by law. At Hoover's Gap we suffered severely, Stewart's division, of which we formed a part, being the only troops confronting the enemy at that point and Johnson's brigade bringing up the rear of the army to Chattanooga. After the demoralization of the retreat from our own State and a campaign in East Tennessee and North Georgia, we again met the enemy on the glorious and ever-memorable field of Chickamauga. Here, as you are aware, our losses were very heavy, being over one-half of the entire command. About 23d of November, 1863, we left the Army of Tennessee to re-enforce General Longstreet at Knoxville. We arrived in time to take part in that engagement. At Bean's Station the command composed one-third of the force in your successful attack and rout of a greatly superior enemy, numbering about five to one. The whole winter of 1863 was a series of active operations. The troops of this command were kept constantly on outpost duty and suffered immensely, both from exposure and lack of supplies, never remaining stationary or in quarters but for a few days at a time. We were taken from that scene of action about 1st of May, 1864, and brought to Richmond, Va., where we arrived just in time to confront the enemy at Port Walthall and Fort Clifton. It will be remembered that a detachment of men from this brigade, under Lieut. F. M. Kelso, manned the guns at Fort Clifton, and resisted successfully the advance of five of the enemy's <ar88_1265> gun-boats, sinking one and disabling and repulsing the others. At Drewry's Bluff, on 16th of May following, our losses were heavy, both in officers and men.
On 15th, 16th, 17th, again on 30th of June and 1st of July, we were engaged in battles before Petersburg, Va. Our losses were augmented, including valuable officers. This brigade has lost twelve field officers killed and three permanently disabled from field service. Seven of these field officers were killed in the fights around Richmond and Petersburg in the present campaign. On every field Johnson's brigade has shown uniform valor, gaining laurels of which they are justly proud. Would it not be injustice to consolidate such a command and cause it thereby to lose its identity? To say the least, would it not be ungrateful? When our absent members, who are not permanently disabled and prisoners of war, shall return, we will muster, as shown by our reports, over 1,650 officers and men. Should we be so fortunate as to again enter our beloved State, we pledge ourselves to recruit the command to its maximum number in six weeks. We know that this can be done without resorting to conscription, for Johnson's brigade is well and favorably known and mainly composed of men living south of Murfreesborough.
We have made this statement to you in justice to ourselves and the brave men we represent, trusting that you will use every endeavor to prevent our being swallowed up by any other command. We feel our indebtedness to you in a great measure for our present standing, and believe that you will take that interest in your old brigade which will defeat this measure. If we are allowed to remain as a separate organization and continued in the Department of Richmond until it becomes generally known throughout the South, we believe that there are Tennesseeans enough within our lines, "refugees from home," to swell our ranks to a respectable number. We hear daily of men in the enemy's lines desirous of joining us, but what chance have they at present? It is true that it may be urged that the transfer proposed is to be only temporary, but experience has shown that those temporary annexations do, after a lapse of time, by general assent, become permanent. Should this transfer be ordered in the face of the present strong opposition to it the most unhappy results may be anticipated, the energies of the officers would become paralyzed, and the spirit of the men broken.
Very respectfully,
JOHN M. HUGHS,
Colonel, Commanding Johnson's Brigade.
WM. H. FULKERSON,
Major, Commanding Sixty-third Tennessee Regiment.
U. C. HARRISON,
Senior Captain Seventeenth Tennessee Regiment.
HORACE READY,
Lieut. Col., Comdg. Seventeenth and Twenty-third Regiments.
R. B. SNOWDEN,
Lieut. Col., Comdg. Forty-fourth and Twenty-fifth Tennessee.
J. E. SPENCER,
Senior Capt. and Acting Major Forty-fourth Tennessee Regiment.
[Indorsement.]
HEADQUARTERS JOHNSON'S DIVISION,
September 19, 1864.
Respectfully forwarded.
There can be no doubt that the sentiments of the officers and men of this brigade are strongly opposed to a combination with any other brigade, «80 R R--VOL XLII, PT II» <ar88_1266> however worthy or distinguished. This arises in part from experience resulting from the consolidation of regiments, and in part from a desire to preserve its identity in connection with its past history, its honorable deeds on fields that will be memorable in all future ages, the toils, privations, and heroic deeds, as well of the living as of the venerated dead, the memories of whose virtues hallow the very name it bears, unworthy though that name be. The men and officers still hope to return in triumph to their native State, and none but they can perhaps appreciate the unspeakable pride they will have, bearing there a distinct name and organization with all the glorious associations of the past. Though I may be excused for peculiar sentiments of regard for this brigade, I believe, in recommending that the combination proposed be not authorized, I but pointedly subserve the real interest of the Confederacy and the public good.
B. R. JOHNSON,
Major-General.
---
Abstract from tri-monthly return of the Department of Richmond, Lieut. Gen. R. S. Ewell,commanding, for October 31, 1864.
O Officers. A Effective total present. M Men. B Aggregate present.
P Present for duty. C Aggregate present and absent. D Prisoners.
Command. O M A B C O M
General staff 12 .... .... 12 12 .... ....
Johnson's brigade 52 414 483 707 1,680 49 487
25th Virginia Battalion 18 309 337 397 817 1 21
Total 70 723 820 1,104 2,497 50 508
Gary's brigade 70 911 1,227 1,472 2,664 6 183
Artillery Defenses 71 1,216 1,304 1,488 3,572 3 1
Grand total 223 2,850 3,351 4,076 8,745 59 692
---
Organization of troops in the Department of Richmond, commanded by Lieut. Gen. Richard S. Ewell C. S. Army, October 31, 1864.
Johnson's Brigade.
Col. JOHN M. HUGHS.
17th and 23d Tennessee (consolidated).
25 and 44th Tennessee (consolidated).
63d Tennessee.
---
O.R.--SERIES I--VOLUME XLII/3 [S# 89]
CONFEDERATE CORRESPONDENCE, ORDERS, AND RETURNS RELATING TO OPERATIONS IN SOUTHEASTERN VIRGINIA AND NORTH CAROLINA, FROM OCTOBER 1, 1864, TO DECEMBER 31, 1864.--# 5, pg. 1235
SPECIAL ORDERS No. 284.
ADJT. AND INSP. GENERAL'S OFFICE,
Richmond, November 30, 1864.
* * * * * * * * * *
XXV. The brigade known as H. H. Walker's Virginia brigade, Army of Northern Virginia, is hereby disbanded, and the regiments which compose it will be assigned to other Virginia brigades in that army under the direction of the general commanding.
XXVI. The brigade (Army of Northern Virginia) known as Johnson's old Tennessee brigade is hereby united with Archer's brigade, of Heth's division. The necessary additional orders will be issued from headquarters Army of Northern Virginia.
* * * * * * * * *
---
O.R.--SERIES I--VOLUME XLVI/2 [S# 96]
CONFEDERATE CORRESPONDENCE, ORDERS, AND RETURNS RELATING TO OPERATIONS IN NORTHERN AND SOUTHEASTERN VIRGINIA, NORTH CAROLINA (JANUARY 1-31), WEST VIRGINIA, MARYLAND, AND PENNSYLVANIA, FROM JANUARY 1, 1865, TO MARCH 15, 1865.--#7, pg. 1182
THIRD ARMY CORPS.(*)
Lieut. Gen. AMBROSE P. HILL.
HEADQUARTERS.
5th Alabama Battalion, Capt. Wade Ritter.
HETH'S DIVISION.
Maj. Gen. HENRY HETH.
Cooke's Brigade
Brig. Gen. JOHN R. COOKE.
15th North Carolina, Lieut. Col. William H. Yarborough.
27th North Carolina, Maj. Joseph C. Webb.
46th North Carolina, Col. William L. Saunders.
48th North Carolina, Col. Samuel H. Walkup.
McComb's Brigade.
Col. WILLIAM MCCOMB.
2d Maryland Battalion, Capt. Joseph L. McAleer.
1st Tennessee (Provisional Army), Capt. William S. Daniel.
7th Tennessee, Lieut. Col. Samuel G. Shepard.
14th Tennessee, Capt. William S. Winfield.
17th / 23d Tennessee, Col. Horace Ready.
25th / 44th Tennessee, Capt. Jonathan E. Spencer.
63d Tennessee, Capt. A. A. Blair.
---
No further records from the 44th Tennessee or Johnson's Brigade exist for 1865.
---
Reports from 1862 - Shiloh and Perryville
Reports from 1863 - Murfreesborough, Tullahoma Campaign, Chickamauga Campaign
Reports from 1864 - 65 - Port Walthall Junction, Drewry's Bluff, the infamous A.N.V. transfer
---
Homepage for the reactivated 44th Tennessee
Silas' Grist Mill / the WCWA links page
Contact Silas, the webmaster
This page last updated 12 May 2001 at 1030 hrs